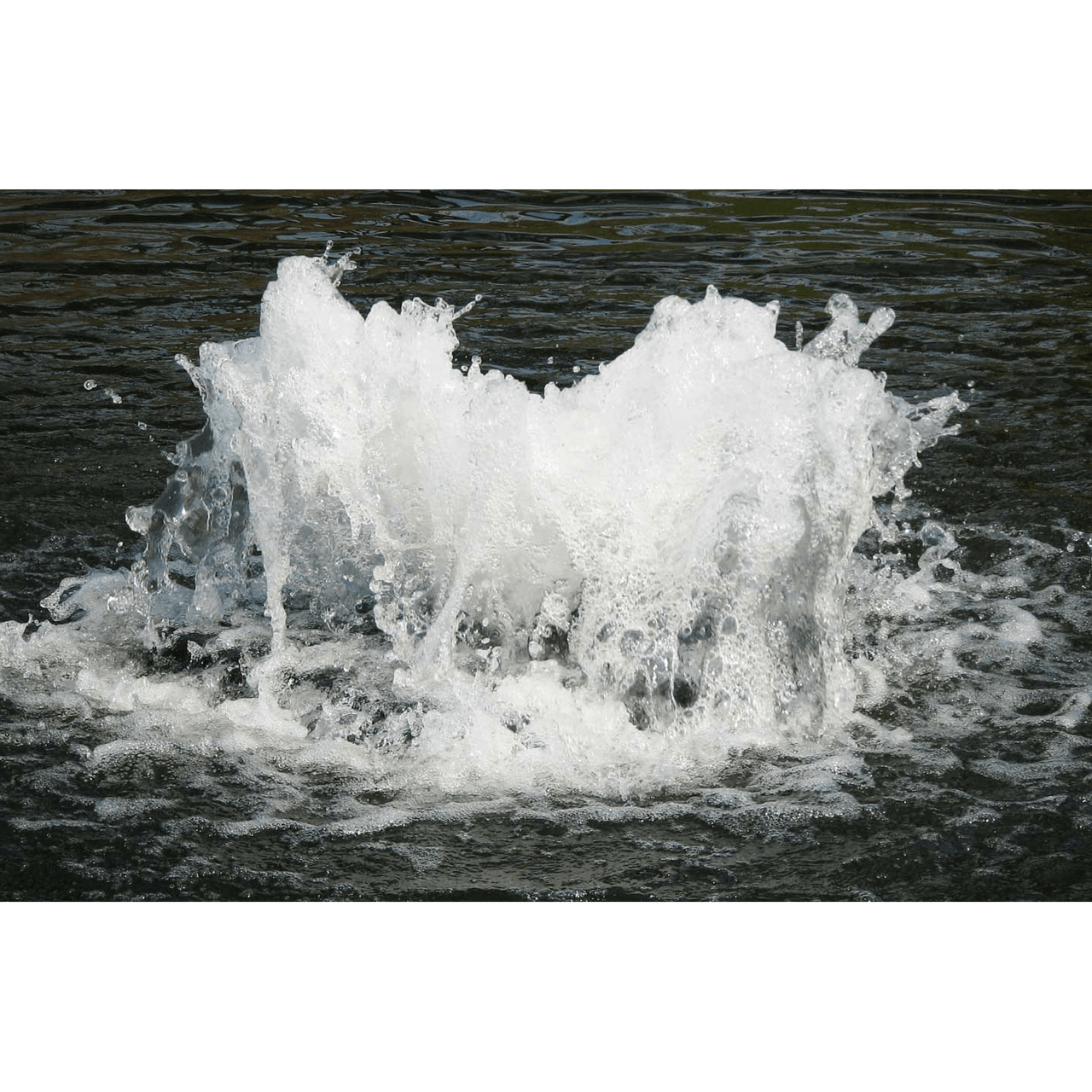 Description
Specs
Installation
Buying Guide
Shipping
FAQ
Flow Rates & Aeration Coverage
| | | |
| --- | --- | --- |
| Motor Size | Flow Rate | Rec. Pond Size |
| 1/2 HP | 400 gpm | 3/4 -1 Acre |
| 3/4 HP | 450 gpm | 1 Acre |
| 1 HP | 500 gpm | 1 - 1.5 Acre |
| 1.5 HP | 600 gpm | 1.5 -2 Acre |
| 2 HP | 700 gpm | 2 -3 Acres |
| 3 HP | 800 gpm | 3 - 4 Acres + |
Floating pond & lake aerator.
Designed for 24-hour, 4-season operation. Optional timer available.
Note: If temperature is below 30° F, unit should either operate continuously 24/7 or be shut off entirely. 
Easy installation. No maintenance required. 
Please see specs for minimum pond depths. 1/2 HP requires 34" and larger motors will require greater depths.
ARL tested and approved to be in compliance with the applicable requirements of UL and the National Electric Code as complete packages.
Common Applications include 

HOA's, Golf Courses, Recreational Ponds & Lakes, Commercial Properties, Country Clubs, Retention Ponds, Farm Ponds and Business Parks.


The redesigned, high-volume Boilermaker 12 hp surface aerator is made for optimal oxygen transmission and water flow.
A high volume floating surface aerator that has been optimized for optimal oxygen transmission and water flow is called the Boilermaker Aerator. The Boilermaker's low profile design produces a simple display pattern while delivering a high volume, white boil effect of highly aerated water. The Boilermaker is the best option if pond health is the main concern due to its high oxygen transfer rates and big volume of water circulation. In the winter, The Boilermaker is effective at de-icing ponds.
In the winter, The Boilermaker is effective at de-icing ponds. All of the water features created by the Scott Aerator Company were developed to do away with the need for time-consuming and expensive winterizing supplies and procedures. Simply leave your fountain or aerator running while shutting off the power source to put it away for the winter. Restore power to the device once the water thaws in the spring, and you're ready to go. All parts can resist temperatures below zero without suffering damage.
Features:
A low-profile, highly aerated spray.

The included power cord is 70 feet long, 12-gauge submersible, and plugged.

Longer lengths of electrical cord can be obtained.

suitable for usage in seawater.

Required for anchoring are two 20-pound weights or concrete blocks (not included).

Anchoring requires two nylon ropes (not included).

designed to run continuously throughout the day.
Flow Rates & Aeration Coverage
| | | |
| --- | --- | --- |
| Motor Size | Flow Rate | Pond Size |
| 1/2 HP | 400 gpm | 3/4 -1 Acre |
| 3/4 HP | 450 gpm | 1 Acre |
| 1 HP | 500 gpm | 1 - 1.5 Acre |
| 1.5 HP | 600 gpm | 1.5 -2 Acre |
| 2 HP | 700 gpm | 2 -3 Acres |
| 3 HP | 800 gpm | 3 - 4 Acres + |
Required Pond Depth
| | |
| --- | --- |
| Motor Size | Min. Pond Depth |
| 1/2 HP | 34" |
| 3/4 HP | 34" |
| 1 HP | 36" |
| 1.5 HP | 38" |
| 2 HP | 42' |
| 3 HP | 60" |
Electrical
| | | | | |
| --- | --- | --- | --- | --- |
| Horse Power | Voltage | Hz | Amps | Watts |
| 1/2 HP | 115V or 230V | 60 | 10 | 670 |
| 3/4 HP | 115V or 230V | 60 | 10.7 | 875 |
| 1 HP | 115V or 230V | 60 | 14 | 1210 |
| 1.5 HP | 230V | 60 | 10.6 | 1780 |
| 2 HP | 230V | 60 | 12.6 | 2280 |
| 3 HP | 230V | 60 | 14 | 3000 |
Cable Length & Gauge
| | |
| --- | --- |
| Motor Size | Available Cord Lengths |
| 1/2 HP 115V | 70' - 150' |
| 1/2 HP 230V | 70' - 400' |
| 3/4 HP 115V | 70' - 150' |
| 3/4 HP 230V | 70' - 400' |
| 1 HP 115V | 100' - 150' |
| 1 HP 230V | 100' - 400' |
| 1.5 HP 230V | 100' - 400' |
| 2 HP 230V | 100' - 400' |
| 3 HP 230V | 100' - 400' |
1. Assemble The Unit
Assembly of Scott Aerator Fountains takes 15-20 minutes. Assembly instructions will be included with your fountain. Scott Aerator fountain kits come with the following:
Pump with cylindrical casing and power cable attached
Square float platform
Protective stainless steel filter
Decorative nozzle (this does not apply to the DA-20)
5/16"x2" stainless steel bolts
Stainless steel nuts & washers
Self tapping stainless steel screws
Tools Needed: You will need a wrench (or socket driver) and pliers. 
Assembly Steps:
Begin by placing the fountain housing on a solid surface, with the pump discharge opening facing up.
Tie nylon rope (not included) to the two stainless steel eyebolts. These will be the anchoring lines for the fountain.
Next, put the float in place and secure with the two 5/16" x 2" bolts, washers and nuts included.
Now, turn the fountain upside down, remove the styrofoam doughnut, and place the stainless steel filter in place. Be sure to line up the pre-drilled holes on the fountain with the position marks on the filter. Attach the filter with the
three self-tapping screws provided.
2. Attach Lights (If you did not order lights, skip this step)
Scott Aerator fountain light kits simply attach to the square float platform. Scott Aerator light kits come with the following:
(2) or (4) LED light fixtures with power cable
1/2" bolts & nuts
(2) or (4) stainless steel arm brackets
Timer/control unit
Remote control (only for color-changing lights)
Tools Needed: Wrench & Pliers
*Please note: The included timer/control unit is required to operate the lights. Do not remove cord from control unit, this will void the lights' warranty.


Assembly Steps:
Attach each arm assembly to the water feature. Be sure to orient the arms with "L" facing upward. Remove one of the 2" bolts attaching the float to your Scott water feature and align the holes with the stainless steel arm. Reinsert the bolt with washer, outward through the housing, float and stainless steel arm. Secure with washer and nut. Repeat for the remaining arm assembies.
Continue by attaching each light to the slotted end of the stainless steel arms. Feed 1/2" x 1/4" bolt downward through each light bracket and steel arm then secure with 1/4" nut. The lights can be positioned along the arm by loosening the lock nut, sliding the light to the desired position, then re-tightening the nut.
Connect the lights to the Timer Control Unit by aligning pins and screwing the connector together 1/2 turnonly. Do not force the connection tight or you may damage the O-ring or wiring.
3. Place in water
Once the unit is assembled, it is ready to be placed in the water for final preparation and anchoring.
Care should be used when handling the fountain; it is very important that the weight of the fountain not be placed upon the stainless steel filter.
Once the fountain head is in the water, attach the fountain head by screwing it into place (this does not apply to the DA-20).
Float the fountain to the desired position and secure the attached nylong ropes to shore or use 2 concrete blocks submerged at least 20 feet apart.
The final step is to plug your fountain and lights into your established power source. Always use a ground fault circuit interrupter (GFCI) and a licensed electrical contractor to install your power source.
Choosing the Right Horsepower
The size and flow rate of your fountain's spray is influenced by the horsepower you choose. A higher horsepower will move more water, resulting in a larger and/or thicker spray. 
When it comes to selecting horsepower, it largely depends on your budget and pond size. It is recommended to keep a minimum distance of 10 feet between the fountain spray and the edge of your pond. 
Choosing the Right Voltage
If you are unsure about which voltage to choose, feel free to contact us for assistance. 
If you plan to run 115V power to the edge of your pond, please note the maximum distances from the pump to the breaker, including the power cord you order. 
If you plan to run 230V to the edge of your pond, you generally will not have to worry about the distance. 
| | |
| --- | --- |
| Motor Size | Max distance from pump to breaker on 115V |
| 1/3 HP 115V | 280' |
| 1/2 HP 115V | 250' |
| 3/4 HP 115V | 200' |
| 1 HP 115V | 150' |
Choosing the Right LED Lights (Optional)
LED lights can be purchased now or added later. They simply screw on to the fountain. 
Lights run on 110V and come with their own power cord.
Single-color warm white LED lights or color-changing LED lights are available. 


Both options come with a programable timer. 
Color-changing lights come with a remote control that works up to 1,000 feet away.
For 1 HP and below 

2-light sets are recommended.
For 1.5 HP and 2 HP 

3-light sets are recommended.
For 3 HP 

4-light sets are recommended. 
Choosing the Right Timers (Optional)
Timers can be purchased now or added later. 
Timers are only made to control fountains, not lights.
Residential and Commercial Timers perform the same function. 


Residential timer box is plastic and the commercial box is metal. 
Unique Additional Nozzles (Optional)
Important Note:  Scott Aerator Fountain pumps can accommodate all Scott Aerator Nozzles. If you would like a different spray pattern, you can easily purchase a new nozzle.  
There are 9 unique nozzle options that you can choose from. Each has its own special spray pattern!  
TIP: Not all nozzles will fit every motor size. Please double-check to make sure your nozzle will fit the appropriate motor horsepower. 
Nozzle Spray Sizes (H x W)
| | | | | | |
| --- | --- | --- | --- | --- | --- |
| Nozzle | 1/2 HP | 1 HP | 1.5 HP | 2 HP | 3 HP |
| Amherst | N/A | 35' x 40' | 35' x 40' | N/A | 30' x 25' |
| Atriarch | N/A | 30' x 25' | 40' x 30' | 50' x 40' | 60' x 50' |
| Baystone | N/A | 14' x 30' | 20' x 40' | N/A | N/A |
| Cambridge | N/A | 30' x 40' | 35' x 45' | N/A | 40' x 55' |
| Clover | 20' x 35' | 30' x 42' | 40' x 50' | N/A | 50' x 70' |
| Millbrook | N/A | 15' x 30' | 17' x 35' | N/A | N/A |
| Rosewood | N/A | 30' x 40' | 35' x 45' | N/A | N/A |
| Skyward | 20' x 35' | 30' x 42' | 40' x 50' | N/A | 50' x 70' |
| Tudor | N/A | 10' x 35' | 15' x 45' | N/A | N/A |
FREE Shipping via FEDEX, LTL Ground, & UPS 
Ships Only to Lower 48 States of the United States
Fountains
Q: What is the best way to choose a fountain?
A: This is the question we receive most frequently, and it carries a lot of weight. We would start by asking: is aeration the goal, or is it aesthetics? Or, do you need both? Consider one of our Aerating Fountains if you're looking for aeration, or both. Compared to aesthetic fountains, they circulate much more water at a much higher rate. In terms of aesthetics, there is a wide variety of options to consider. What it looks like is ultimately up to you. To begin with, make sure your pond meets the minimum depth requirements. Then, make sure your display doesn't exceed the capacity of your pond. Each fountain product page contains display dimensions.
Note: Water can only be aerated up to about 6 feet deep using fountains and surface aerators.
Q: What is the right horsepower choice for a fountain?
A: The horsepower refers to a motor's size, which determines how large the spray pattern will be. In addition, make sure that your pond is deep enough and that the spray won't spill onto the sides regardless of the horsepower you choose. Our fountains work best with ponds that are a quarter acre or larger in size (depending on their shape). In order to choose the horsepower you need, you need to consider your budget and the size that you'd like.
Q: Should I hire someone for my fountain installation?
A: A licensed electrician should install a power source if you do not already have one installed by the pond. Our fountains are fairly easy to install once the power source is up and running. With nylon rope and cinder blocks anchored on two sides, and powered by a submersible cord that plugs into a power source at the edge of the pond, our fountains float in the middle of the water. We often have customers who install their own fountains in order to save money. You will need to take into account your available resources.
Q: Which is better for me: 110-120V or 210-240V?
A: 210 to 240 volts is generally ideal if the power source is more than 70 feet away from the main breaker. Naturally, your power source needs to be able to handle the higher voltage. In this manner, you can ensure that your fountain receives sufficient power to run continuously. Choosing the lower voltage will result in your fountain running intermittently or turn off immediately after being turned on or it will not operate at its full potential if your pond is too far from the main breaker. If you have any questions, please do not hesitate to contact us.
Q: Does the price include lights?
A: No, lights are not included by default. It is possible to order them simultaneously with your fountain or sometime later. Attaching them to the floating unit is as simple as snapping them on. It is well worth the investment.
Q: What determines the price of the power cord?
A: Material costs are largely responsible for this. Different kinds of power cords are available for fountains, ranging from 14-gauge copper or stainless steel wire to 4-gauge copper or stainless steel wire (dependent on fountain size and cord length).
Q: Is it okay to leave my fountain in water over the winter?
A: Scott Aerator Fountains are the only fountains that remain operational throughout the winter. In the winter, either run them continuously or turn them off completely. Once the ice thaws, they can be turned back on.
Aerators
Q: Can aeration maintain the health of my fish and clean my pond?
A: Without a doubt. Whenever a pond needs to be cleared, the first step is aeration.
Q: What is the best way to choose an aerator?
A: Your pond's size and depth will determine this. There are various categories on the website based on the size of the pond (in acres). Our Surface Aerators and Aerating Fountains are ideal for ponds under six feet deep. Sub-Surface aerators are recommended for ponds over 6 feet deep.
Q: How do I get my aerator installed?
A: A licensed electrician should be consulted if a power source has not yet been installed by the pond. We have designed our aerators so that they easily install once the power source is ready. We have found that most of our customers install the equipment themselves without any problems and save money by doing so. You will need to take into consideration your resources.
Q: How should the aeration setup be configured?
A: An ideal aeration setup would include a surface aerator or aerating fountain, as well as a Sub-Surface aerator. A surface aerator or fountain would circulate oxygen released from the pond's bottom thoroughly.
Free Shipping
Track Your Order All The Way To You.
Quality Support
USA Based Customer Service Team.
Secure Checkout
Encrypted SSL security. Your details are protected.