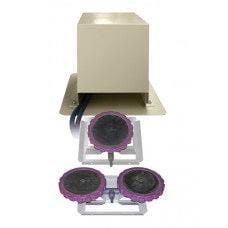 Vertex PondLyfe 4 Pond Aeration System
The Vertex PondLyfe 4 Aeration System is best fit for small ponds up to 1.5 acres and 30" deep. 
The PondLyfe 4 Aeration System is super-efficient, affordable and safe. The rising force of millions of bubbles transports bottom water to the surface, allowing oxygen to be absorbed and circulating the entire water column.
High pumping rate easily penetrates stratification layers
Promotes beneficial bacteria growth
Prevents low oxygen fish kills
Reduces nutrient levels and associated algae growth
Oxidizes/reduces bottom muck
Expands oxygenated habitat for improved fisheries
Reduces aquatic midge and mosquito insect hatches
Eliminates foul odors from undesirable dissolved gasses.
Contact us for an installation quote: support@pondhaven.com
SUPER-DUTY BROOKWOOD™ COMPRESSOR
3-year Vertex warranty (excluding wearable parts: air filters and compressor maintenance kits)
UL, 115v, 1 cycle, 2 CFM Built for continuous 24/7 operation
Upgraded rotors, stators, valve plates, bearings and capacitors
Vertex SafeStart™ Technology for auto restart under maximum rated pressure without motor damage
Thermal overload protection
Oil-free, and require no lubrication
2-3 year extended duty cycle between scheduled maintenance
POND-LYFE QUIETAIR™ CABINET
Limited lifetime warranty against rust
Powder coated aluminum for a durable attractive finish
Equipped with a stamped ventilation grill
High capacity 140 CFM fan
Class "A" GFCI Protection on compressor and fan circuits
Quick disconnect switch included
Easy access design with cam lock
Easy plug-in connection to waterside electrical service
Heavy duty, light weight mounting pad included
Optional muffler box and additional insulation
BOTTOMLINE™ SUPPLY TUBING
15-year Vertex warranty
Available in 50', 100', 250' and 500' spools
Self-weighted for easy installation
Flexible PVC composite direct burial and submersible tubing
Use with standard PVC solvent weld cement and insert fittings
High wall thickness for durability and protection from punctures
Remains flexible in cold temperatures.
Over-sized I.D. for high flow
SELF-SINKING AIRSTATION
5-year "No Questions" warranty
Includes one XL2 SW self-cleaning, sinking airstation and one XL1 self-cleaning, sinking air station (shown in picture)
Made of powder-coated stainless steel
Designed to prevent settling into soft bottom sediments.
Adjustable diffuser risers accommodate any site requirements
Manuals
FREE Shipping via FEDEX, LTL Ground, & UPS 
Ships Only to Lower 48 States of the United States
Free Shipping
Track Your Order All The Way To You.
Quality Support
USA Based Customer Service Team.
Secure Checkout
Encrypted SSL security. Your details are protected.