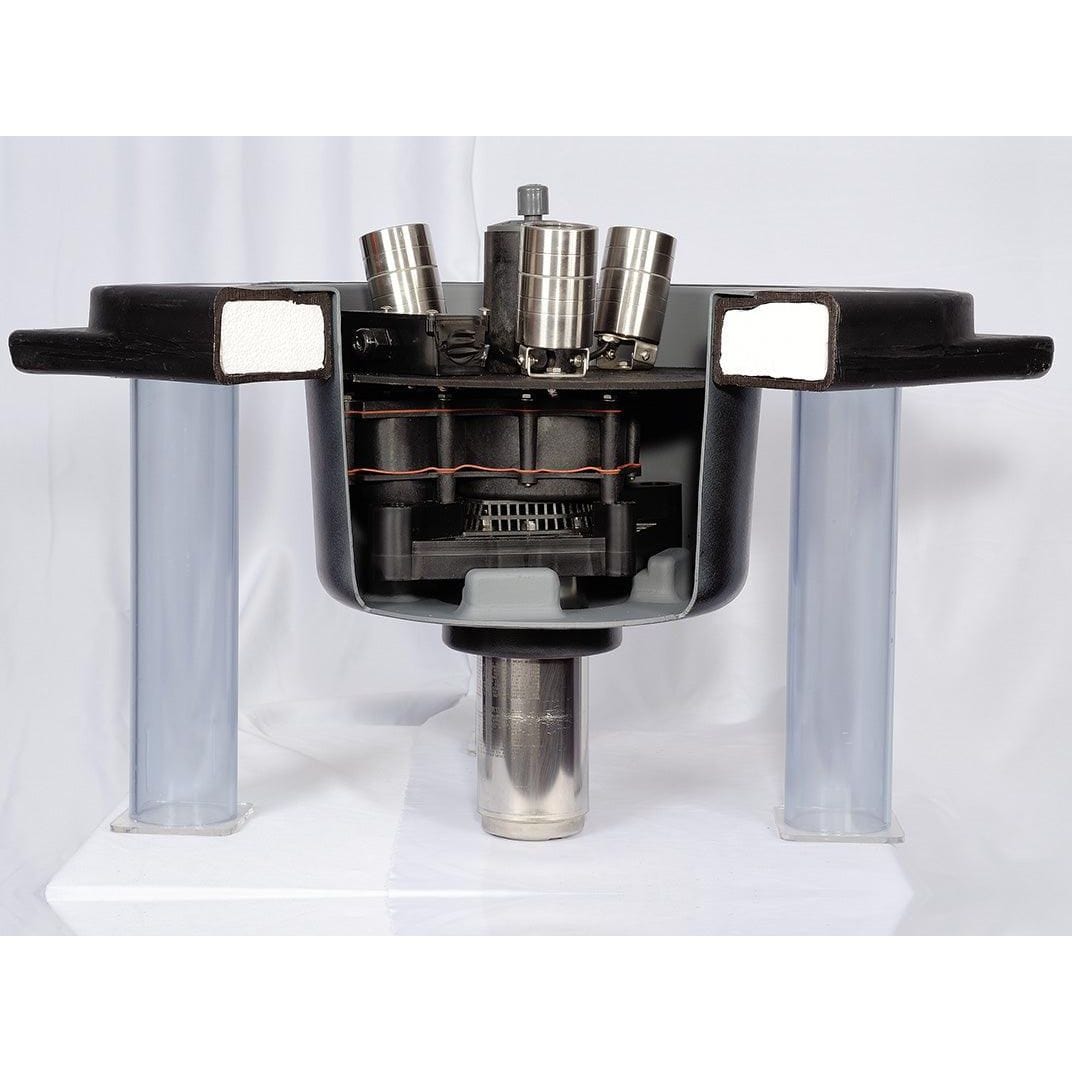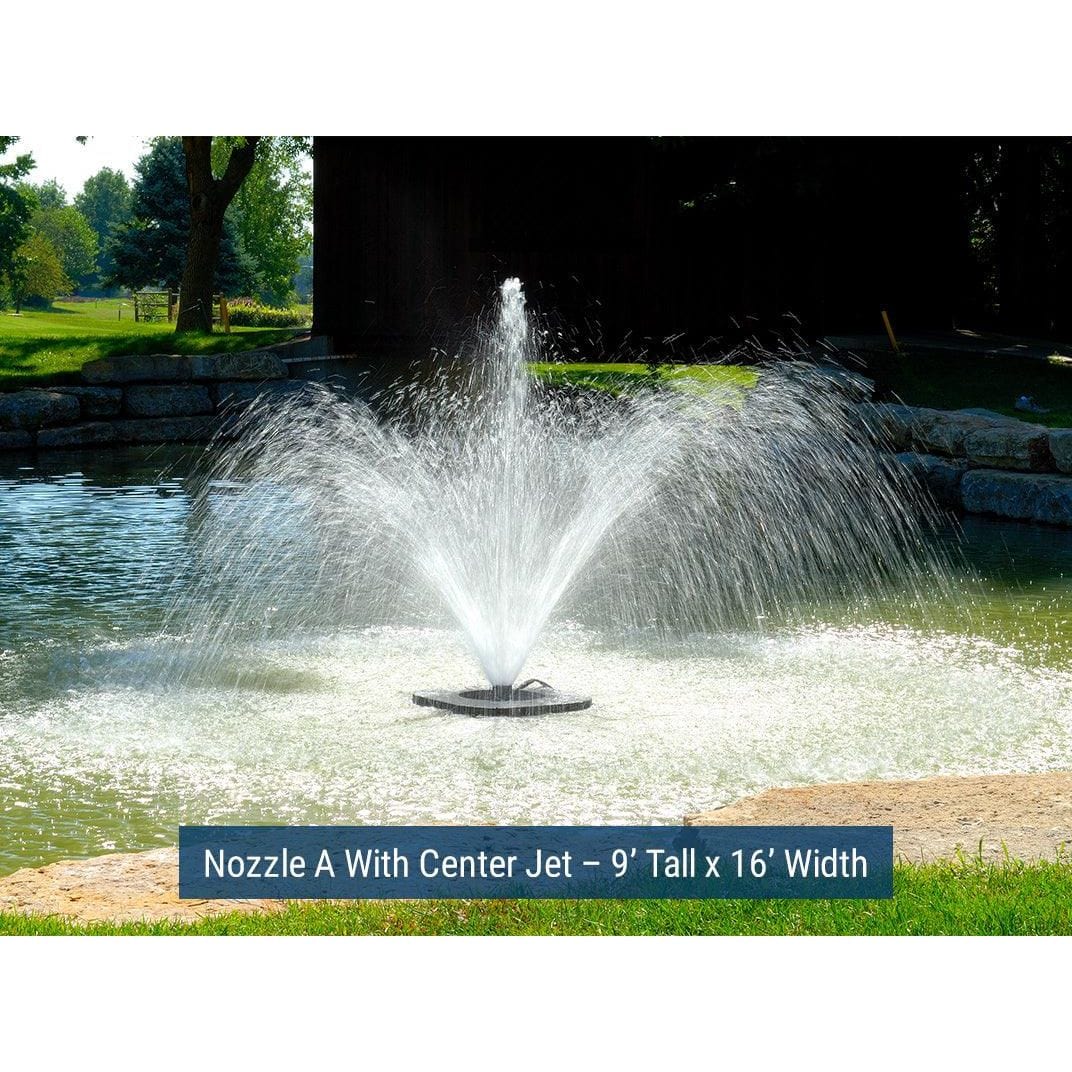 Font`N-Aire Legacy 1/2HP
High Quality and Yet Affordable Font`N-Aire Legacy 1/2HP made by Air-O-Lator in the U.S.A.
The Font'N-Aire Legacy fountain line has five major components:
FLOAT – constructed of rugged polyethylene molded plastic with UV inhibitors and filled with non-hygroscopic pressure molded polystyrene foam, measuring 24" x 24" with only 3" in thickness.
SUPPORT CHAMBER – holds the fountain in place on the flotation device.
POWER DRIVE ASSEMBLY – motor mount, centrifugal pump, nozzle and a motor.
ELECTRICAL SERVICE CABLE ASSEMBLY – 100' (standard) of AWG# 12/3 submersible cable.
TIMER – 24-hour time clock with multiple off/on trippers.
Air-O-Lator fountain lines use the Franklin Electric submersible motor exclusively, which is specially designed for lake and pond fountain applications. This water-cooled and lubricated motor is environmentally safe.
The CENTRIFUGAL PUMP DISPLAY FOUNTAIN boasts a distinctive center discharge pump design that keeps the submersible motor shaft and discharge in a vertical position. This design feature ensures that the entire weight of the fountain remains in the center of the float, making installation and removal from the float easy without requiring special mounting brackets or hardware. Additionally, our centrifugal pump generates high pressure, enabling impressive fountain heights and displays with significantly lower horsepower than other fountain equipment. However, this fountain should only be used for aesthetic purposes as the volume of water pumped into the air is insufficient to qualify as an aerating device according to Air-O-Lator's standards for oxygen transfer testing.
The Palatial Solar fountain comes with a choice of five different nozzle spray patterns, and it operates via direct drive without batteries, running only during daylight hours.
Optional Light Kits:
Option 1:  (2) High Quality RGB lights by Aspect Lighting.  These LED landscape lights are waterproof (with an IP65 rating) and feature an aluminum body. These lights come standard with a clear glass trim.  Each are 9 watt RGB lights and offer the full spectrum of colors including white.  This option includes a remote and is 24v low voltage and includes a photocell timer.
Option 2:  (3) High Quality White LED lights.  They are also waterproof with an IP65 rating and feature a durable die cast metal housing.  Each are 6 watts and are 24v low voltage.  Includes a photocell timer.
Cable Length
100 ft, 150ft.
Lights
No Light Kit, With RGB Lights, With White Lights
FREE Shipping via FEDEX, LTL Ground, & UPS 
Ships Only to Lower 48 States of the United States
Free Shipping
Track Your Order All The Way To You.
Quality Support
USA Based Customer Service Team.
Secure Checkout
Encrypted SSL security. Your details are protected.